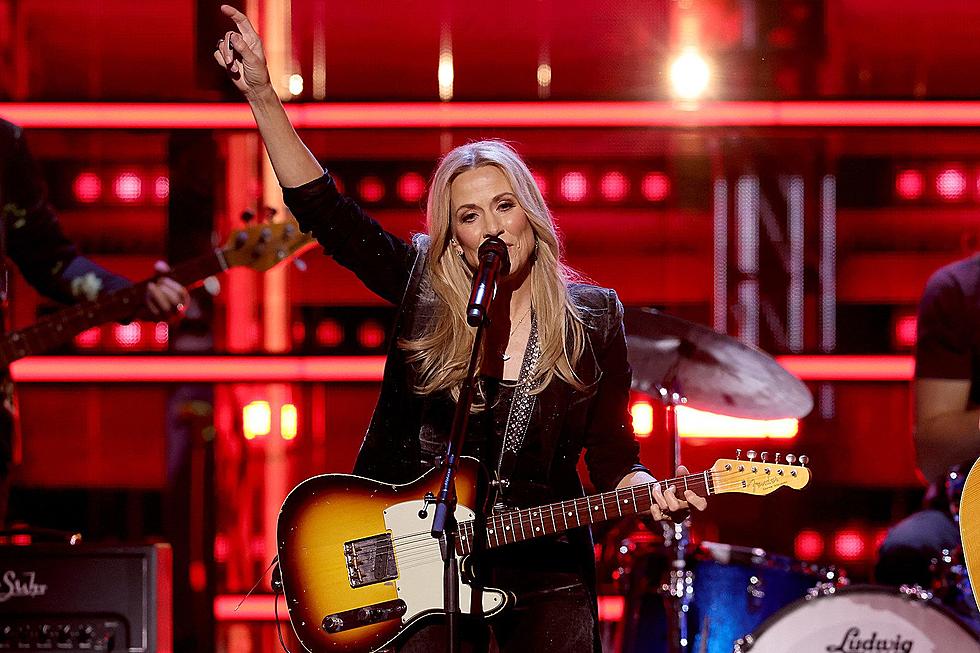 Five Ways Sheryl Crow Ruled the 2023 Rock Hall Induction Ceremony
Kevin Kane, Getty Images
Sheryl Crow was inducted into the Rock and Roll Hall of Fame on Friday night, and in case there was any doubt as to the merit of her inclusion, she went ahead and spent the entire evening demonstrating to everyone why she belonged there.
Which is not to say that Crow's accolades didn't already speak for themselves. The singer-songwriter is a nine-time Grammy winner and has collaborated in some form with just about every big name in rock there is — the Rolling Stones, Stevie Nicks, Michael Jackson, Prince, Johnny Cash, Sting and Joe Walsh, to name just a few.
At Crow's induction ceremony, she more than reiterated why she's consistently cited as one of the most influential singer-songwriters of her generation, performing with friends of varying ages and backgrounds, and honoring those who came before her whilst paving the way for whoever comes next.
For those who questioned Crow's Rock Hall inclusion, here are five moments from that evening's ceremony to prove you wrong.
1. The Next Generation: Sheryl Crow's Duet With Olivia Rodrigo
The very first performance of the evening came from Crow and one of her very own, highly successful fans, pop star Olivia Rodrigo, who has described Crow as one of her "heroes." The duo sang Crow's 1996 hit "If It Makes You Happy," trading lines and both playing guitar. In and of itself, it was a beautiful moment between a seasoned pro and a blossoming newcomer, but it represented something that the Rock Hall has been attempting to emphasize of late: it's people like Crow who many of the current cohort of singer-songwriters have looked to and been inspired by.
2. Honoring Her Heroes: Stevie Nicks and Peter Frampton 
Of course, where Rodrigo has Crow to look up to, Crow has her own heroes, too. One of them is Peter Frampton, who joined her onstage for a rendition of "Everyday Is a Winding Road." Frampton was Crow's first rock 'n' roll concert in 1976 when she was 14 years old. As she recalled in her acceptance speech, it changed her perspective for good: "I got to sing along with tens of thousands of strangers to 'Do You Feel Like I Do?' And who doesn't dream of that being your life after you've experienced it?" (Backstage with press, Frampton would sing her praises in return: "She's the whole package. She deserves this so much.")
And in case you were too mesmerized by Frampton's flying fingers to notice the other blonde woman singing on stage, that was none other than Nicks, a legendary inspiration for every single woman in the music business. "I honestly would not be who I am without her," Crow said.
3. Not Done Yet: Sheryl Crow Plans to Release a New Album
In 2019, Crow announced that her upcoming album, Threads, would be her last. (She clarified at the time that she wanted to focus instead on just singles.) But she has since changed her mind, partially due to the rise of AI in songwriting. "I wrote a song about it, I was terrified," Crow explained to press backstage at the ceremony. "And where do I go when I'm terrified? I go to my studio. ... I found myself just writing one thing after another, and low and behold, I had 10 songs. So, you really can't believe anything I say." In the words of another of Crow's heroes Neil Young, a two-time Rock Hall inductee himself: "Rock 'n' roll can never die."
4.  The Life I Love Is Making Music With My Friends: Sheryl Crow Sings With Willie Nelson
Crow's relationship with one of the other inductees that evening, Willie Nelson, goes way back. So of course it made sense she would join him, plus Chris Stapleton and Dave Matthews, for a performance of "On the Road Again."
"Even if I hadn't been inducted this year, I would've been there this year for him," Crow told Billboard earlier this year. "I tell him all the time and I can't tell him enough: he's my favorite person to sing with and he's also one of my favorite people on the planet. I'm so blessed to know him. He's uniquely divine as far as I'm concerned. It's as much of an honor to be there with him as it is to be in it."
5. Take a Load Off: Sheryl Crow and Friends Cover 'The Weight'
Arguably one of the highest points of the entire evening came around halfway through, kicked off by Crow. Following the "In Memoriam" video played to the audience, Crow announced from the stage "This is for you Robbie," and launched into the Band's "The Weight," penned by Robbie Robertson who passed away in August. With Last Waltz-esque lights behind her, Crow was joined by Stapleton, Brittany Howard and Elton John. It was a heartwarming tribute to one of rock's greatest songwriters, performed communal-style by four musicians of diverse backgrounds — as Crow knows, the only thing better than singing a great song by yourself is singing it with others.
2023 Rock and Roll Hall of Fame Induction Ceremony: Photos
This year's event took place in Brooklyn, N.Y.
Gallery Credit: Allison Rapp
More From 96.5 The Walleye