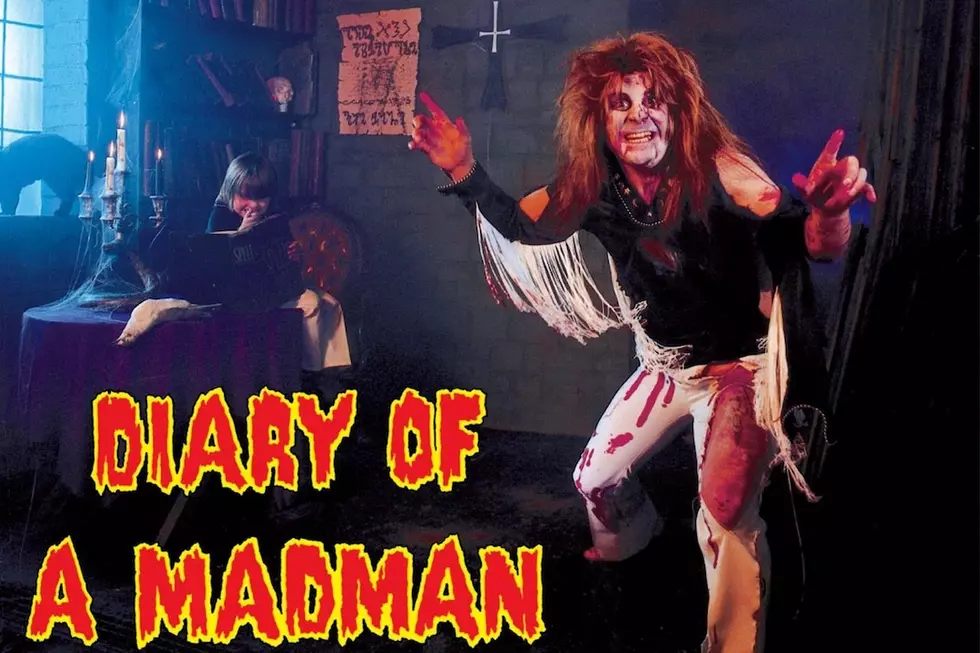 The Controversial Birth of Ozzy Osbourne's 'Diary of a Madman'
Jet
Ozzy Osbourne's second album, Diary of a Madman, arrived on Nov. 7, 1981 as another masterful metallic showcase for the former Black Sabbath singer – and for his mercurial six-string phenom, Randy Rhoads.
Together, this dynamic duo was rewriting the rules of commercial heavy metal at the dawn of the '80s, and the future looked so bright, it helped obfuscate the strange events surrounding the creation of his sophomore album – beginning with the question of who exactly played on it.
The quartet credited on Diary of a Madman's sleeve listed bassist Rudy Sarzo and drummer Tommy Aldridge as Osbourne's and Rhoads' musical partners. But the songs on Diary of a Madman had, in fact, been recorded – and, depending on whom you believe, partly written – by departed bassist Bob Daisley and drummer Lee Kerslake, back in January and February of 1981.
At the time, Osbourne's first solo album, Blizzard of Ozz, was only starting to gain traction in a world that remained suspicious of Osbourne's career prospects – to some degree blinded by the supernova blast of Sabbath's first LP with former Rainbow singer Ronnie James Dio, Heaven and Hell.
Not even this kind of lingering uncertainty can explain why Osbourne, Rhoads, Daisley and Kerslake were ordered to get to work on their second album only three months after their first's release in Europe, and even before Blizzard had been given a U.S. street date. But get to work they did, once again at Ridge Farm studios with producer Max Norman, where the well-oiled quartet "just clicked," as Kerslake told author Garry Sharpe-Young in his unofficial biography of the Osbourne band. "With Diary of a Madman ... we matched and progressed from what we had done before and took it to a whole new level," he recalled. "Those songs just flowed."
Sure enough, the results packed just as much revolutionary guitar work by Rhoads on the head-banging "Over the Mountain" and "Flying High Again," the tender melodies of "You Can't Kill Rock 'n' Roll" and "Tonight" and the neo-classical stylings of the title track. Another song, "Believer," was built from the ground up on top of a memorable Daisley bass line, and Kerslake's militaristic percussion served as the backbone for "Little Dolls." But perhaps the most talked about number was the cryptic "S.A.T.O.," which, fans have now and then conjectured, stood for "Sailing Across the Ocean."
According to different sources like Daisley and keyboardist Lindsay Bridgewater, all cited in Sharpe-Young's book, the astonishing but nameless song was hastily baptized with the initials of the four people who happened to be discussing its dilemma in the office just then: manager Sharon Arden, her then-boyfriend Adrian, Thelma Osbourne and her then-husband Ozzy. "The song lyrics I wrote about a particular Buddhist doctrine," Daisley said. "'A ship to sail across the sea of suffering.'"
Listen to Ozzy Osbourne's 'Flying High Again'
In any case, once the recording sessions wrapped, all four musicians went their separate ways for a quick rest, ahead of their already-booked first U.S. tour – but only two of four returned. In his extensive interviews with Sharpe-Young, Daisley summarized the events. "I got a call from Sharon, and she just said 'You and Lee are out,'" he remembered.
Added Kerslake in the same book: "I got back from [vacation] and found a message on my answering machine saying I was no longer in the band. What a way to go, eh? Sharon had phoned my ex-wife to tell her. It got taken away from being a band to becoming just Ozzy. Randy was totally gutted. He phoned me, and we spoke at length."
Sarzo and Aldridge arrived as the American tour finally got under way, finding themselves in an uncomfortable situation. "Though I've never had the opportunity to tell him, Lee should be very proud of those records," Aldridge said. "I remember someone – who shall remain nameless – trying to get me to re-record the drums. I declined, saying I couldn't improve upon what he did." As for Sarzo, when asked about Daisley in an interview with Metal Sludge, he stated "Awesome bass player. I had the time of my life playing his bass lines live. ... They are world class."
The lingering drama surrounding Daisley's and Kerslake's contributions continued to fester, sparking the occasional public spat and royalty disputes that led to the re-recordings of their parts for reissues that came out in the early '00s. But way back in 1981, all that mattered was Diary of a Madman's impressive sales and chart placements, including a lofty No. 14 in the U.K., where it sat uncomfortably close to Black Sabbath's newly released second album fronted by Dio, Mob Rules. In the U.S., though, it was Osbourne who beat his former bandmates, reaching No. 16 with Diary vs. their album's peak just inside the Top 30.
Needless to say, the two acts' continually intersecting paths seem almost coincidental all these years later. When asked for his feelings on his old band for the Sabbath biography Symptom of the Universe, Osbourne told Mick Wall: "I couldn't give a fuck what they do. I'm out of there and very happy about that, thank you very fucking much."
Osbourne's words would gain in strength as the years wore on and his star power kept climbing, even surviving the tragic martyrdom of Rhoads just a few months later, thanks to the timeless music they'd jointly created for the hit-laden Blizzard of Ozz and its underrated equal Diary of a Madman.
Ozzy Osbourne Albums Ranked 
More From 96.5 The Walleye