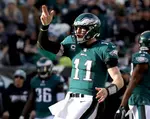 Redemption for Carson Wentz
Getty Images
It's only week 1, but he looked pretty good. 
The Redskins are a terrible football team, dysfunctional owner and players that don't fit.  They are a division rival though so a lot of that gets thrown out the window especially on game 1.  There was a scary air in Philly as they went down 17-0 against the dumpster fire Skins, luckily though their QB is Carson Wentz.
After going down that big, he led them back with a spirited 29-3 run which included 2 Desean Jackson touchdown bombs. Carson finished the day  28/39 313 and 3TD, a nice beginning to what might be an MVP caliber season barring injury. Like a lot of teams in the NFL, the first half showed how rusty the players were having sat out preseason games. It was good to see the Eagles show up when the game mattered.
Next up the Falcons, Hmm 2-0?.
More From 96.5 The Walleye