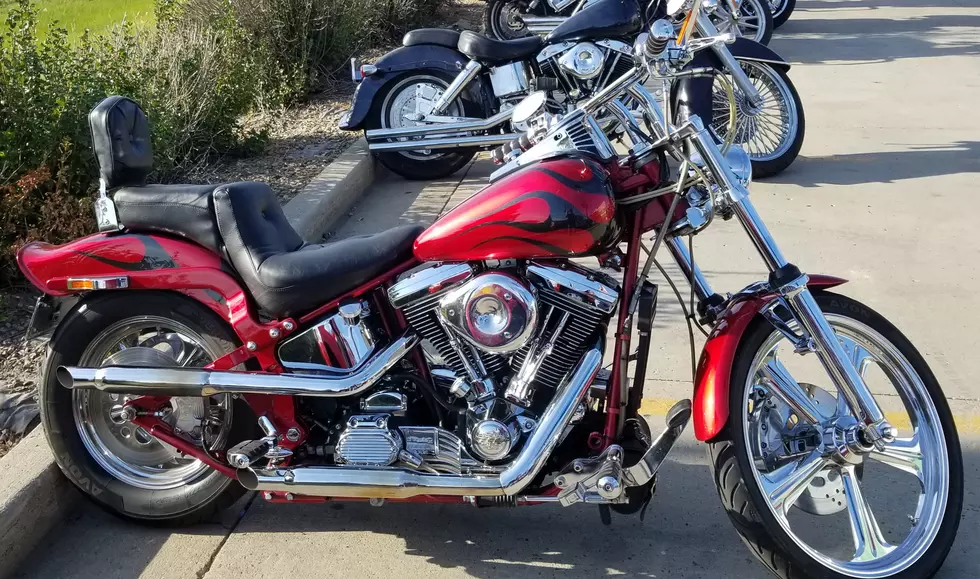 BIKE NIGHT 2020 SICKIES GARAGE SMOKING HOT.
THE GLAMOUR CONTINUES EACH WEEK WITH AMAZING BIKES.
Hey Bromo, "Hot enough for you?" YES YES YES. I'm not going to lie and say that last night wasn't brutal, because it was. HOWEVER, when you are at Sickies Garage you are taken care of - Big Time. From the servers inside to Marissa and Christina outside under the tent handing out cold ones, they do an amazing job. The heat was tough, reached 100 degrees, yet from our regulars to quite a few newcomers the excitement and charm were out there on Sickies parking lot. We had Kristen and Tanner from Indian Motorcycle of Bismarck-Mandan, and a handsome friend of theirs - A 2020 Indian Motorcycle Challenger Dark Horse. Here is another reminder to all that stopped by to stare at the beautiful machine, Kristen makes sure to let you know that anyone with a bike license can stop by their store and test-drive it. Pastor Andy - from Hospice Red River Valley was there in his booth right next to us. Andy is an accomplished rider himself. C & S  Truck-N-Trailer Repair was with us also, they are experts at finding the most strategic shady spots.
Hard to believe, but we have just 2 Bike Night 2020's left, next Wednesday, and then the finale on September 2nd. Be there with us, get your punchcard punched! A huge thank you to our Sponsors, I say this every week but it's true, Bike Night 2020 wouldn't be possible without you!
Superior Silk Screen Inc.
Indian Motorcycle of Bismarck-Mandan
C & S Truck-N-Trailer Repair
Law Tigers - North Dakota Motorcycle Lawyer
Roughrider Harley Davidson
XP3 Gas & Fuel Additive - Jim Bauer XP3.com
Theodore Roosevelt Medora Foundation
Pam Emmil Creations - pamemmil.com
BIKE NIGHT 2020 - WEEK 12