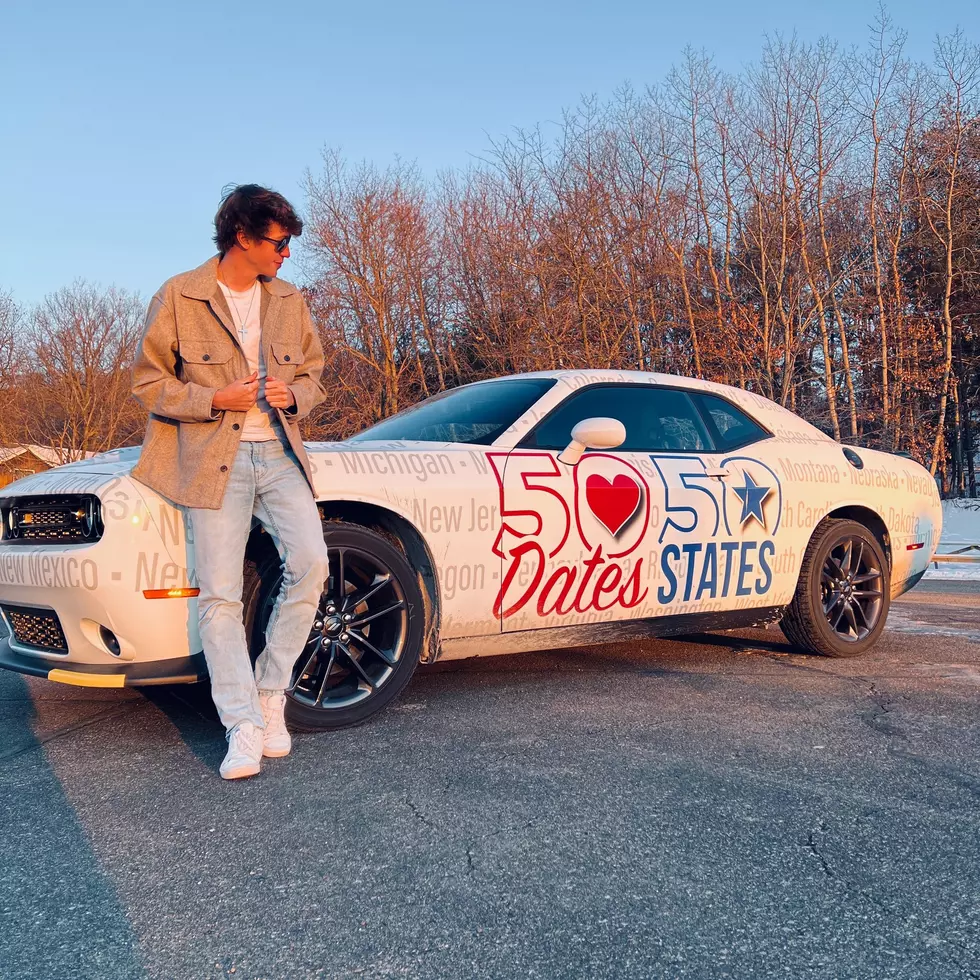 Bismarck Former Bachelor Is Clobbering "The Bachelor" In Viewers
Matt Wurnig Facebook
First of all, I want to take a few seconds to tell you what kind of guy Matt Wurnig is
I had a chance to meet Matt over a year ago when he stopped by our radio station here in Mandan. The moment I shook his hand you can tell what a first-class guy he is. Matt stands tall in manners and even larger in personality. He is just one of those individuals that you like right away. Back then Matt was in his first season of "50 Dates 50 States", a brilliant idea he came up with to help combat the emptiness we all felt when COVID-19 first hit. Virtual dates in other States, what a fantastic start, and man did he take off. You can follow him through YouTube/TikTok....
98 Dates complete, and two more to go.
Try, just try and imagine what it would be like to be Matt Wurnig for just one day. Elevated from a truck that he drove in the first season, to a sleek sports car that fits him to a tee - the 2021 Dodge Challenger looks good wrapped around him ( or vice-versa ). So he is almost finished with season two, as he completed 50 dates in the first one, and has gone on 48 so far this season, check out where he plans on going for his last two - Hawaii this Saturday then finishing up in Alaska for the last one. There are a trillion questions that Matt has been asked in his "50 Dates 50 States" career, and trust me, he patiently and politely answers each and every one of them. The awesome thing about this 25-year- old ( who lived here and spent time with the Bismarck Larks organization for over two years ) is that his current success is only going to gain more momentum as time goes by. He currently calls home in Huntley, Montana.
How many people are aware of Matt Wurnig?
Well, let me answer that by giving you some stats - according to yahoo.com "His journey to find love might not be airing in primetime, but Matt Wurnig (also known as the TikTok Bachelor) has gotten triple the audience on his most popular TikTok video than "The Bachelor" franchise secures on an average night — on a fraction of the budget...' and then there is this "...The three pinned videos at the top of Wurnig's "50 Dates 50 States" account boast about 11 million views total, and that's not including the hundreds of other videos Wurnig has posted since he decided to launch his series about dates he sets up with women from all 50 states" - wow, 99% of us would do the "Mic-Drop" after those kinds of number, not Matt - he is as humble a person that I've ever met, by far. I mean, come on, when 10,000 applications in less than two months come flooding in, with women who want to meet and go out on a date with you, wouldn't that tend to make you JUST A LITTLE overconfident? No way, this charming guy hasn't changed one bit since day one.
I did have a few questions of my own
His favorite city so far has been Salt Lake City, and he loved the small town of Yankton, South Dakota. To sum this whole thing up, his answer to me on the phone today about his whole experience, from the virtual dates in the past to the present day, was sheer gold. Without hesitation, he told me that "...he simply just wants to inspire others, to laugh and feel good about themselves. To take a chance and travel, and get out there. Believe in yourself." There is nothing fake about Matt Wurnig, and anyone lucky enough to have met him, and be around him will tell you the same exact thing.
---
LOOK: Route 66's quirkiest and most wonderful attractions state by state
Stacker
compiled a list of 50 attractions--state by state--to see along the drive, drawing on information from historic sites, news stories,
Roadside America
, and the National Park Service. Keep reading to discover where travelers can get their kicks on Route 66.
More From 96.5 The Walleye