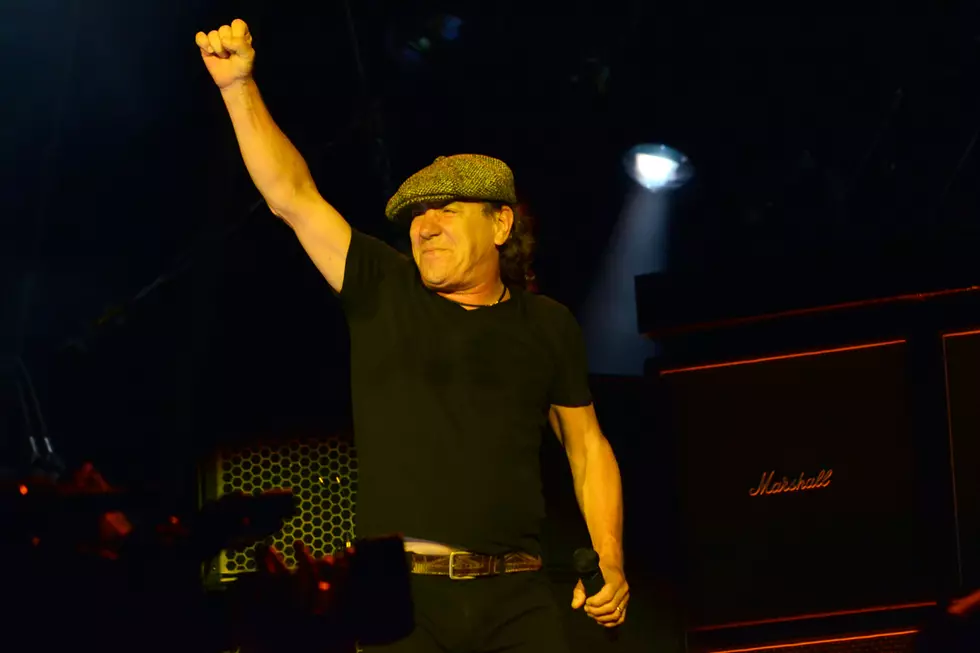 Brian Johnson Tells How He Overcame 'Crippling' Hearing Loss for AC/DC Return
Richard McCaffrey, Getty Images
AC/DC will return this week with Brian Johnson singing with the band, something that looked like it might not happen again after Johnson stepped down from the group in 2016 citing significant hearing loss. But after meeting with a hearing specialist and working with a new device, he's been able to reclaim his spot in the band.
Reflecting on the hearing woes that led to his exit, Johnson told Rolling Stone, "It was pretty serious. I couldn't hear the tone of the guitars at all. It was a horrible kind of deafness. I was literally getting by on muscle memory and mouth shapes."
He adds, "I was starting to really feel bad about the performances in front of the boys, in front of the audience. It was crippling. There's nothing worse than standing there and not being sure… The docs said, 'Deaf is deaf, son.' Cliff [Williams] and Angus [Young] didn't want to be responsible for me damaging my ears any further. … Shit happens. At least it wasn't terminal."
Axl Rose was brought in to help AC/DC complete their Rock or Bust touring commitments while Johnson met with a specialist to see if there was any way to remedy his hearing loss. After experimenting for three years, the singer is finally able to return.
Johnson said of the specialist, "The first time he came down he brought this thing that looked like a car battery. I went, 'What in the hell is that?' He said, 'We're going to miniaturize it.'"
He recalls, "It took two-and-a-half years. He came down once a month. We'd sit there and it was boring as shit with all these wires and computer screens and noises. But it was well worth it."
Of the device, Johnson states, "The only thing I can tell you is that it uses the bone structure in the skull as a receiver. That's as much as I can tell you."
AC/DC recently previewed a bit of their new song "Shot in the Dark" with the track set to arrive at 12AM ET on Wednesday (Oct. 7). Fans have also spotted the song turning up in a new Dodge ad reviving characters from the movie Talladega Nights. The song will be the first single from their forthcoming album, PWR/UP, which is now due Nov. 13.
57 Rock + Metal Bands Who Changed Names Before Getting Famous
More From 96.5 The Walleye