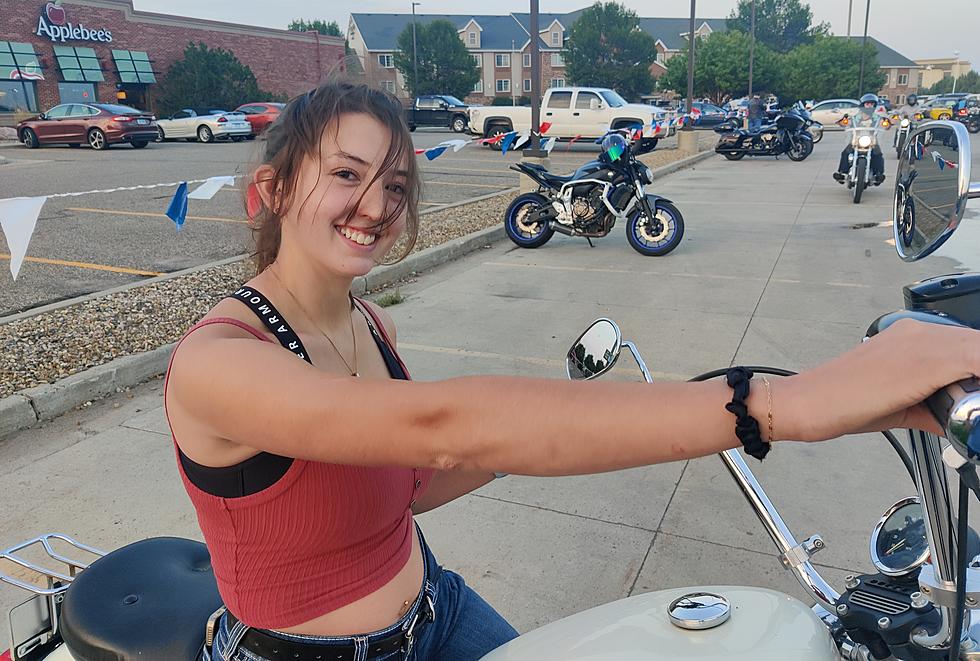 Cool Summer Breeze – Cool People – Cool Bike Night – Week 11
Bromo
Finally, the weather delivered a PERFECT Wednesday night at Sickies Garage
I can say this with 3 years of Bike Night experience under my belt, during a Bike Night season you just never know what the weather will be like, but het that's North Dakota for you, right? Last night was perfect, once the 3 or 4 sprinkles evaporated, a nice cool breeze swept through the Sickies parking lot all night.
Not too windy to play havoc on our Cornhole games...
The Freedom Riders once again put smiles on everyone's faces...
...one little 5-year-old girl in particular - Rhiley - she and her mom and dad ( Tanya, John ) and her grandma Gail will all have a blast with her brand new bike!
Inside and out Sickies Garage Burgers And Brews people were just flat-out COOL!
Sickies do it right, man -  from their delicious food -  to all their wonderful staff, Sickies KNOWS how to take care of people
If YOU are one of those that have driven by a Bike Night and have seen all the beautiful bikes all in a row...
..PLEASE join us! It's about the friendliest place I know - and who knows, on August 30th YOU could drive away with the Grand Prize - A 2023 CF MOTO 650 NK Motorcycle From Dvorak Motorsports & RV Center - See You Next Wednesday For Bike Night Week 12
 As always we are grateful for each and every one of our sponsors for making 2023 Bike Night possible - See you next Wednesday for Week 9-
Sickies Garage Burgers And Brews
Dvorak Motorsports And RV Center
Bismarck Dent Company
BTP Total Performance Inc.
Indian Motorcycle Of Bismarck/Mandan
Timeless Motorsports LLC
T Trailer Sales
Theodore Roosevelt Medora Foundation
Superior Silk Screen
LarsonsTattooing
SS Auto Care
Moritz Sport And Marine
Mineral Palace
ABATE Of North Dakota
Haider Glass Specialties
Freedom Riders
Roughrider Harley-Davidson
XP3 Gas & Fuel Additive- Jim Bauer XP3.com
5 Second Rule Bracelot
Mandan Sporting Goods
Nothing Bundt Cakes
Jack Daniel's
Dennis Kirk
Seafoam Motor Treatment
McQuade's 
Michelob Ultra     
More From 96.5 The Walleye