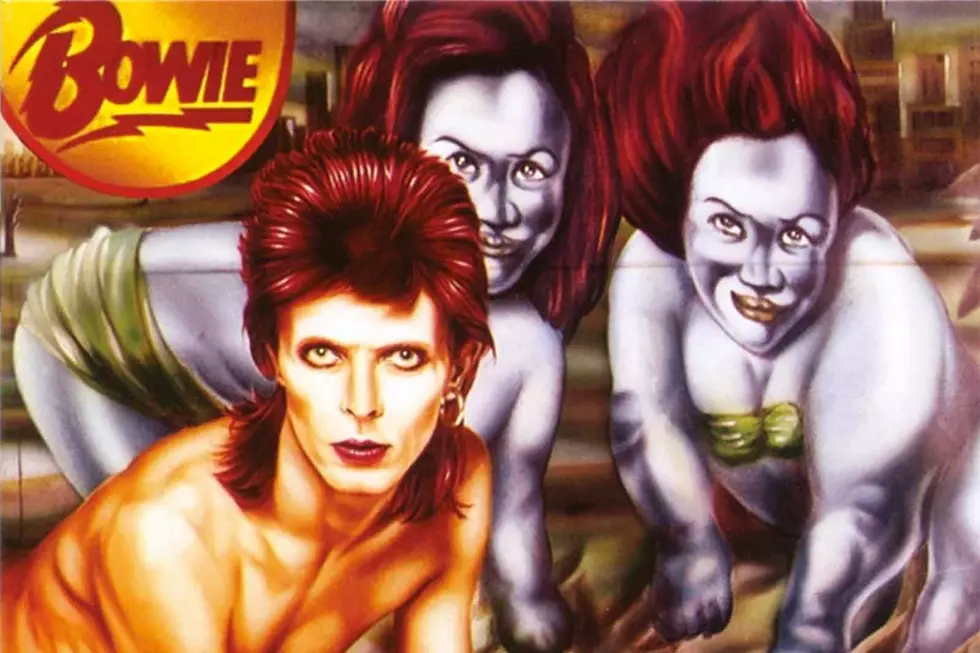 When David Bowie Offered the Dark, Complex 'Diamond Dogs'
RCA Records
David Bowie entered 1974 as one of the world's biggest rock stars. He was still flying high on the success of the Ziggy Stardust character, whose image had become so famous that it wound up gracing the cover of the singer's eighth album, Diamond Dogs, which was released in May 1974.
The strange aspect about the return of Ziggy is that Bowie had famously retired him nearly a year earlier, during the last show of the tour in support of the follow-up, Aladdin Sane. So, after the late-1973's covers LP, Pin-Ups, Bowie laid off the Spiders from Mars and proceeded to hire session musicians to back him on Diamond Dogs.
The sessions were spread over several months and studios in and around London, before culminating in a final mix at producer Tony Visconti's newly built studio. Since producing and playing bass on 1970's The Man Who Sold the World, Visconti had been busy overseeing Marc Bolan's classic glam LPs, so the reunion proved timely and momentous in seeing Bowie's next crucial career transition through.
Bowie had been planning to build a full-fledged concept album around George Orwell's dystopian classic, 1984, 10 years before the fateful date. But when the author's estate refused to grant him their blessing, Bowie was forced to scale back on overt references to the novel, and rework the material to mesh with other, unrelated song ideas and make sense of it all, somehow.
As a result, Diamond Dogs became a complex affair, both musically and lyrically, which quickly moved on from the apocalyptic prophecies intoned on the introductory mood piece, "Future Legend," into the title track's more familiar arena glam aesthetic (backed by faux concert sounds) and the dramatic cabaret balladry of "Sweet Thing," which was beautifully garnished by Mike Garson's piano.
However, the ensuing "Candidate" didn't pack that typical, finely crafted Bowie touch and, when followed by an elegiac reprise of "Sweet Thing," felt like a poorly finished concept album remnant (which is precisely what it was). In that regard, it previewed other 1984-inspired leftovers stuffed onto Diamond Dogs' second half. Flourishes of infectious creativity were often weighed down by dark, overwrought words, which were made all the more confusing for being untethered from the initial source material.
Luckily, Bowie's formidable pop instincts ensured that these ebbs were invariably countered by undeniable crests — namely via the unusually direct love letter to his adoring fans, "Rock 'n' Roll With Me," and the gloriously raw career landmark, "Rebel Rebel," which built the bridge between glam and the not-yet born British punk movement in four-and-a-half perfectly imperfect minutes.
All this being said, not even artistic triumph, chart-dominating singles and impressive album sales (No. 1 in the U.K. and No. 5 in the U.S.) could mask Bowie's ongoing growing pains on Diamond Dogs. This is why, with decades of hindsight, Diamond Dogs now seems more like the gateway from the Ziggy Stardust era to his Thin White Duke blue-eyed soul period, and beyond.
David Bowie Albums Ranked 
More From 96.5 The Walleye