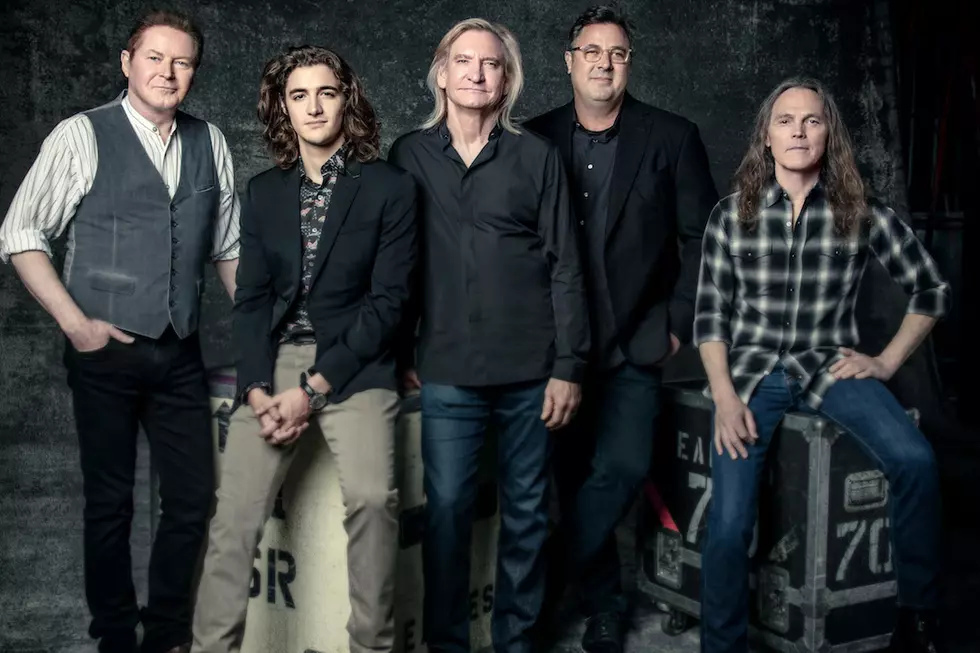 Eagles Add 13 More Dates to 2018 North American Tour
Myriam Santos
Citing an "overwhelming response" from fans, Eagles have added more than a dozen new dates to their 2018 itinerary, including second shows in cities with particularly high demand.
This marks the third round of dates announced for the band's 2018 tour, which finds them performing with an augmented lineup following the 2016 death of co-founder Glenn Frey. As previously reported, the group's recent shows have seen them joined by country veteran Vince Gill as well as Frey's son Deacon, both of whom contribute vocals and guitar. It's an evolution that's made it possible for the surviving members to take part in what manager Irving Azoff has deemed a "celebration" of the Eagles' legacy — with the younger Frey's participation particularly key according to co-founder Don Henley, who's said the band needed "family blood" to continue.
The group's current itinerary started out with a dozen dates before expanding to 20, some of which will see them sharing a bill with Jimmy Buffett, Chris Stapleton or James Taylor. The latest round of additions, 13 in all, brings the total to 33 — closer to the number suggested by guitarist Joe Walsh, who's said he sees them doing "between 40 and 50" shows next year.
Tickets for the new shows go on sale Dec. 15 at 10AM local time, although American Express account holders will have access to a special presale event starting Dec. 11. Look over the complete list of dates below, and visit the Eagles' website for further ticketing details.
Eagles 2018 Tour Dates
3/12 — Indianapolis, IN
3/14 — Chicago, IL
3/15 — Grand Rapids, MI
3/18 — St. Louis, MO
3/19 — Kansas City, MO
3/21 — Des Moines, IA
3/23 — Nashville, TN
3/24 — Nashville, TN
4/08 — Columbus, OH
4/10 — Lexington, KY
4/11 — Charlotte, NC
4/14 — Orlando, FL (with Jimmy Buffett)
4/16 — Columbia, SC
4/17 — Raleigh, NC
4/19 — Birmingham, AL
4/21 — Miami, FL (with Jimmy Buffett)
5/10 — Vancouver, BC
5/11 — Vancouver, BC
5/14 — Calgary, AB
5/15 — Edmonton, AB
6/15 — Houston, TX (with Chris Stapleton)
6/17 — Tulsa, OK
6/20 — New Orleans, LA
6/23 — Arlington, TX (with Chris Stapleton)
6/28 — Denver, CO (with Jimmy Buffett)
6/30 — Minneapolis, MN (with Jimmy Buffett)
7/14 — Buffalo, NY
7/15 — Toronto, ON
7/17 — Toronto, ON
7/20 — Boston, MA
7/24 — Pittsburgh, PA
7/26 — Washington, DC (with James Taylor)
7/28 — Philadelphia, PA (with James Taylor)
Eagles Lineup Changes: A Complete Guide
More From 96.5 The Walleye