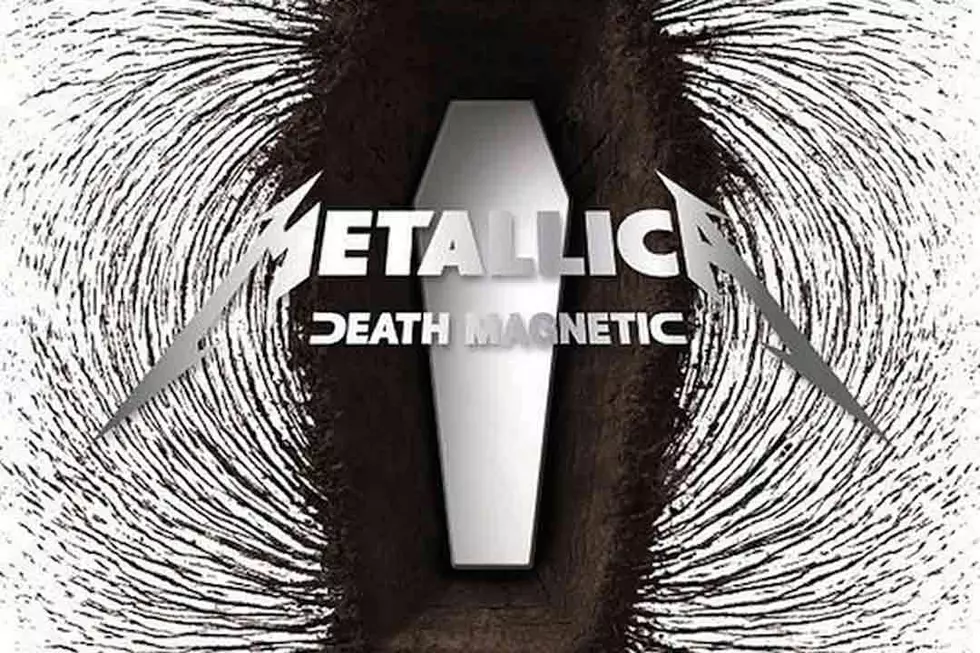 15 Years Ago: Metallica Returns to Thrash on 'Death Magnetic'
Warner Bros.
Metallica attempted to correct the heavy metal universe's cosmic balance on Sept. 12, 2008, with their ninth studio album. Death Magnetic doubled as musical homecoming and an open apology to their long-suffering fans for the disappointment that was their previous album, 2003's St. Anger.
After years spent refusing to look back while diluting their sound with new songwriting directions and oddly-chosen recording techniques, Metallica finally surrendered and shaped Death Magnetic into exactly what their ardent fan base had been clamoring for: a trip down memory lane, inspired directly by the band's original, thrash-based heavy metal style.
Most everyone can agree that the more mature and streamlined results were still no match for the groundbreaking, youthful excitement of Ride the Lightning, Master of Puppets or even ...And Justice for All. But there was likewise no denying these were earnest attempts on Metallica's part to revive those '80s glories, and make up for a "lost decade" marked by the divisive Load and Reload LPs, never mind St. Anger.
Listen to Metallica's 'The End of the Line'
How Metallica Made Up for a Lost Decade
Tasked with shepherding this rebirth was Rick Rubin. He's a producer known as much for his discerning ear as his uncanny ability to help veteran artists reconnect with the creative mindset that spawned their initial, best-loved works, before they lose their way down the long road to stardom.
Read More: 10 Worst Metallica Songs
True to his well-established modus operandi, Rubin forced his latest millionaire clients to listen carefully to their old material, and beat new songs into shape in rehearsal. Having completed this process, Metallica duly emerged with a set of 10 new songs, stripped of all funny business and overflowing, instead, with virtually inexhaustible reserves of monster riffs, familiarly oblique lyrical themes, and even guitar solos.
Metallica's Guitar Solos Finally Return
In this way, Death Magnetic represented James Hetfield and Lars Ulrich's redemption, but it was also a kind of revenge for Kirk Hammett.
After having his hands tied during the fraught, solo-less St. Anger sessions, Metallica's lead guitarist was mercifully given free rein to wail away to his heart's content. His newly unleashed blazing technique immediately helped elevate songs like "The End of the Line," "Cyanide" and "The Day That Never Comes," to album standout status.
Listen to Metallica's 'Cyanide'
Metallica Albums Ranked
There are moments of indecision when compiling this list. After all, we really could have had – for the first time ever – a three-way tie for first.
The Rush / Metallica Team-Up That Slipped Away
More From 96.5 The Walleye