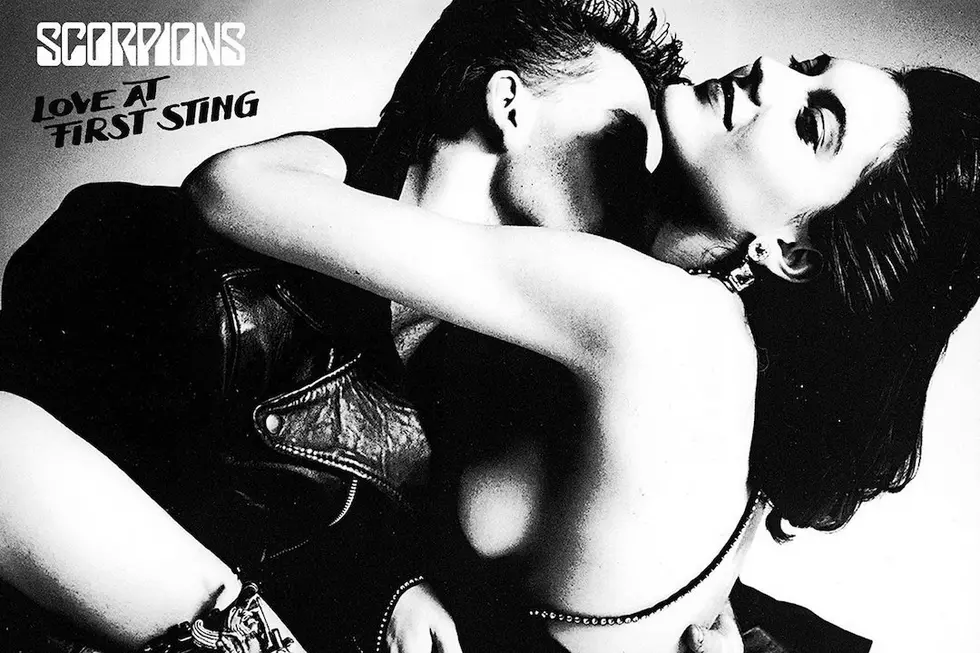 How Scorpions Become an Overnight Success After Nine LPs
Mercury
Not too many bands enjoy the greatest success of their career with their ninth studio album, but that's precisely what Germany's Scorpions did when Love at First Sting arrived in record stores on March 27, 1984.
For almost 20 years, the Scorpions had bided their time on the fringes of success in America, while building a respectable career overseas throughout the '70s. At the start of the new decade, musical trends finally met their increasingly commercial sound. The Scorpions (along with fellow European veterans like Judas Priest and younger upstarts like Iron Maiden and Def Leppard) were ready to reap the rewards.
The last vestiges of the Scorpions' outdated '60s and '70s influences had wisely been jettisoned years earlier, in tandem with original guitar wizard Uli Jon Roth. That left them to make just a few cosmetic improvements to Rudolf Schenker's already highly focused songwriting, as heard on 1982's hit-laden Blackout LP. With the help of longtime producer Dieter Dirks, the resulting Love at First Sting delivered another string of individual successes: "Rock You Like a Hurricane," their ultimate hard rock hit (No. 25 in the U.S.); "Big City Nights" an even catchier follow-up, tailor-made for the arenas they'd soon be packing; and "Still Loving You," the perfect tear-jerking ballad to win over female fans in droves.
Just as importantly, at a time when consumers still expected a full-length album experience, Love at First Sting was remarkably deep with quality material, including tone-setting rocker "Bad Boys Running Wild," the impressively hooky "I'm Leaving You," the thought-provoking "Crossfire" and the ultra-heavy "Coming Home," which certainly appealed to the band's all-important core heavy metal audience.
Watch Scorpions' 'Rock You Like a Hurricane' Video
Together, these songs pushed Love at First Sting to No. 6 on the Billboard chart and toward multi-platinum sales across the globe, even as the Scorpions mounted their largest-ever tour.
Controversy loomed, however, because of an erotic cover image by noted German fashion photographer Helmut Newton. Some American sensibilities were not surprisingly offended, and an alternate photo was shipped to retailers. Still, none of this could forestall the Scorpions' triumph.
The persistent "Teutonic Terrors" had clearly won the marathon, and they did so in a year that would also prove quite memorable for metal's next generation of "sprinters," including Motley Crue and Ratt – whose Out of the Cellar was released on the very same day as Love at First Sting.
20 Altered Album Covers
Altered album covers must have a resume topped by at least one offense – be that death, nudity and general ickiness.
More From 96.5 The Walleye