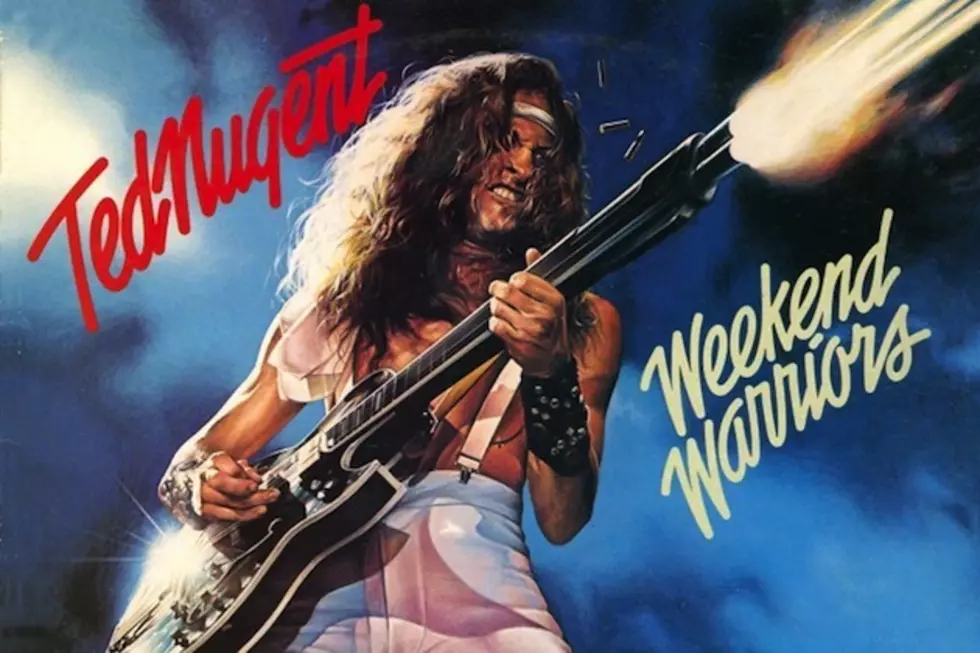 45 Years Ago: 'Weekend Warriors' Becomes Ted Nugent's Last Platinum Hurrah
Epic Records
As classic rock's golden era reached the late '70s, arguably no star was shining brighter over America's heartland than Ted Nugent. He'd firmly established a platinum-selling image involving a loincloth, lascivious grin, larger-than-life persona, and blazing fretboard-tickling fingers.
That led to success as one of America's top-grossing touring artists on the strength of his electrifying stage antics and a spate of radio-conquering hit singles. Nugent brought the best of both worlds together on Double Live Gonzo!, forever immortalizing the sheer power and lunacy of his concerts on vinyl.
Simply put, Nugent was on fire. His career was charging ahead, much like the great white buffalo he had mythologized in song just a few years prior. Unfortunately, so was Ted's oversized ego.
READ MORE: Why Patti Smith Punched Ted Nugent on Live Radio
Seeing no room under those hot concert spotlights for anyone but himself, Nugent pushed out longtime rhythm guitarist and co-lead vocalist Derek St. Holmes, who had contributed his singing talents, occasional songs (most notably "Hey Baby") and even a little star power to the fledgling Ted Nugent band during their inexorable rise to greatness between 1975 and '78.
Listen to Ted Nugent's 'Need You Bad'
Replacing Co-Lead Vocalist Derek St. Holmes
Into St. Homes' boots stepped another Michigan native, Charlie Huhn. His talents seemed to have allowed the Ted Nugent band to forge ahead without missing too many beats, but history has shown that momentum – more so than music – is what carried the following Weekend Warriors to platinum stature within a week of its September 1978 release.
New songs like "One Woman," "Tight Spots" and "Good Friends and a Bottle of Wine" have hardly gone down in classic rock lore. (Just ask your average music lover who isn't a complete Ted Nugent fanatic if they can recall them.) Highlights from Weekend Warriors included the Huhn-sung title track and the urgent "Need You Bad," plus secondary standouts in "I Got the Feelin'" and "Name Your Poison." But they haven't stood the test of time like "Cat Scratch Fever" or "Stranglehold," either.
Instead, both Weekend Warriors and Ted Nugent's career began slipping from the charts not long after that initial burst of platinum excitement. The following year's State of Shock LP would have to settle for gold certification, and 1980's Scream Dream barely matched that. With the dawn of a new decade, Nugent's commercial mojo was effectively spent.
Of course, that should take nothing away from Nugent's remarkable late-'70s winning streak – up to and including the mixed results of Weekend Warriors.
Top 100 Live Albums
These are more than just concert souvenirs or stage documents from that awesome show you saw last summer.
You Think You Know Damn Yankees?
More From 96.5 The Walleye