The Top 3 Hockey Movies of all time
gettyimages-Bruce Bennett
As the weather gets colder and football winds down, ice fishing and hockey take center stage. Here are the top 3 hockey movies of all time to get you in the mood. 
These are good films to curl up on that snowy or minus 10 below day and maybe get in a chuckle or two.  This list comes courtesy of Thrillist.com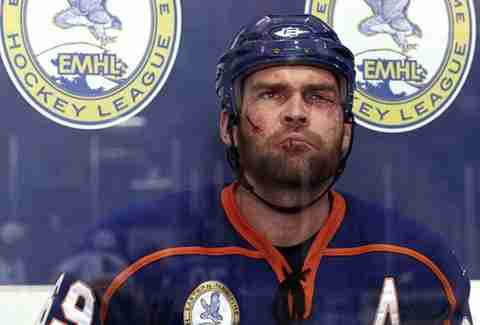 3. Goon (2011)

A bloody, foul-mouthed spiritual descendant of Slap Shot, this is the rare hockey film that's about more than "winning the big game." Seann William Scott's Doug Glatt is a hockey guy's hockey guy, willing to sacrifice his body for the good of the team, but his character isn't one-dimensional, even if Glatt's hockey skill set largely is. Come for the brutal fight scenes, but stay for the great cast including Liev Schreiber, Alison Pill, and co-writer Jay Baruchel.
Gives a little human aspect to the game of hockey, but also has some really cool fight scenes! Now that's Hockey!
 2.Miracle (2004)

We dare you to watch this movie from beginning to end and not get chills at least once, even if you know full well how it's going to end. It's hard to pull off a story that's been told so many times -- even the most casual of sports fans knows the basic plot points -- but Miracle makes it work in no small part thanks to a brilliant performance by Kurt Russell, who perfectly captures Herb Brooks, the Team USA coach who prepared his players for battle with the feared Soviet Union squad, and got them to bond with each other by creating an unlikely common enemy: himself.
Personally, I'm not a big Kurt Russel fan, but this movie is very real and uplifting. It's authentic and brings us back to the time of the cold war as well as a time our country was trying to get our confidence back.  Very chilling and inspiring at the same time. 
1. Slap Shot (1977)

Fire up the Maxine Nightingale! Every hockey fan has their favorite moment in this, the most classic of classic hockey films. (For our money, it's the very first scene: Goalie Denis Lemieux explaining the "finer points of hockey" on a local sports-talk TV show, and demonstrating all the things that get you sent to the penalty box where "you feel shame, you know, and then you get free.") But no matter your preference, this remains as good as hockey cinema gets, chock full of iconic characters, led, of course, by Paul Newman's grizzled player-coach Reggie Dunlop. Slap Shot spares us the glossy sheen of so many sports movies and instead provides what feels like a much more honest peek inside the locker room.
This is a personal favorite of mine. It has Paul Newman in it and of course the Hanson Brothers... nuff said!
More From 96.5 The Walleye