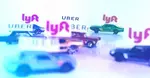 Uber and Lyft offering free rides To Polls
uber lyft facebook
Here's a nice public service. 
In honor of election day, Uber and Lyft are pitching in to help get voters to the polls. In 2016, an estimated 15 million registered voters weren't able to vote for a number of reasons the main being transportation. Here's Uber's statement: 
With the 2018 elections around the corner, many organizations and companies across the country are going the extra mile to support our democratic process. At Uber, we want to do our part, too–by helping voters register and get to the polls on Election Day.

Using our technology and resources, we can help make it easier for every Uber rider in the U.S. to get to their polling place at the push of a button. We're also partnering with nonprofit organizations to register voters before state deadlines and provide free rides to the polls on November 6.
They are going to insert a get to the polls button on the app that would allow you to go to the nearest polling station. They are also partnering with When we all vote to help get voter registration tools necessary to vote.  Lyft is encouraging underserved and low-income communities to vote by using a promo code that would be good for a free ride to a polling station. They are also working with Vote.org to help register people to vote.
This is such a great idea! Hopefully, they pay the drivers somehow though.
More From 96.5 The Walleye