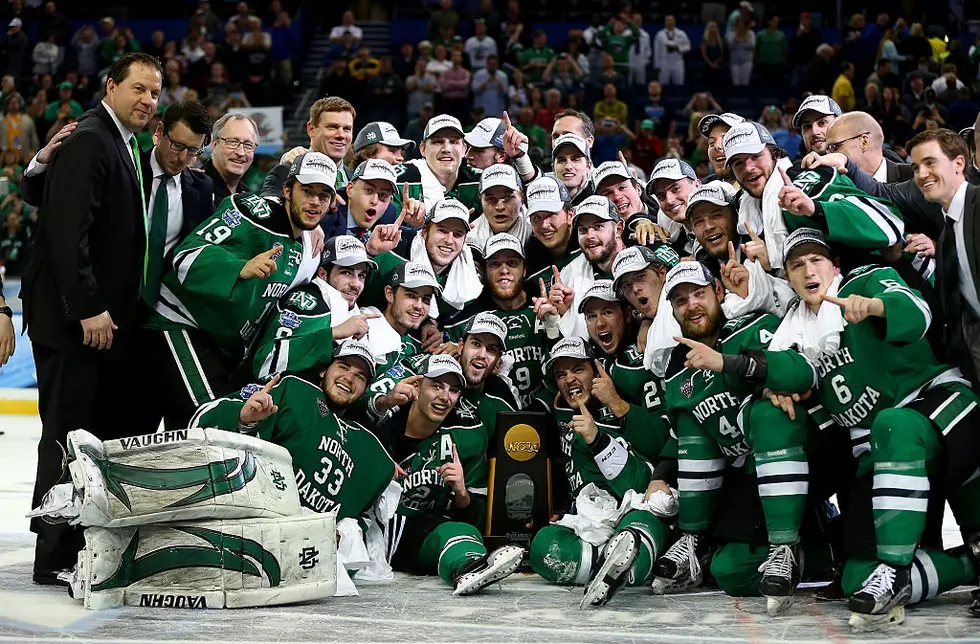 University Of North Dakota Hockey Team Highly Ranked In Polls
Elsa/Getty Images
The men's college hockey preseason polls are out, and the University of North Dakota is once again highly ranked heading into the 2022-23 season.  The Fighting Hawks are ranked in the top 5 in both the USCHO.com and USA Today/USA Hockey Magazine preseason polls.
UND is ranked 4th in both of those preseason polls after finishing the 2021-22 season in 9th place in both of those polls.  UND finished in a tie for first place in the NCHC last season with Denver University, who went on to win the National Championship.
North Dakota will face the defending National Champions Denver early in conference play coming up Friday, November 11th and 12th.
UND will open the season with its annual exhibition game with the University of Manitoba on Saturday, October 1st in Grand Forks.  UND will start playing for real on the following weekend as Holy Cross comes to the Ralph Englestad Arena on October 7th and 8th.  Then UND will face Quinnipiac at home the following weekend on October 14th and 15th.  North Dakota's first road trip will be against their arch-rivals, the University of Minnesota on October 21st and 22nd.  UND will then travel to Las Vegas for the Hall of Fame game against Arizona State on Saturday, October 29th.  UND gets into NCHC conference play the following weekend at Omaha.
You can see the full University of North Dakota Fighting Hawks schedule for the 2022-23 season here.  Start planning your trip to Grand Forks now for a University of North Dakota hockey this season.  There's nothing else really like it.
---
8 Great Hockey Rinks In North Dakota
The 8 BEST Hockey Rinks in North Dakota
ALSO: Former Minnesota Twins All-Star's Home for Sale - Complete With Brewery
More From 96.5 The Walleye