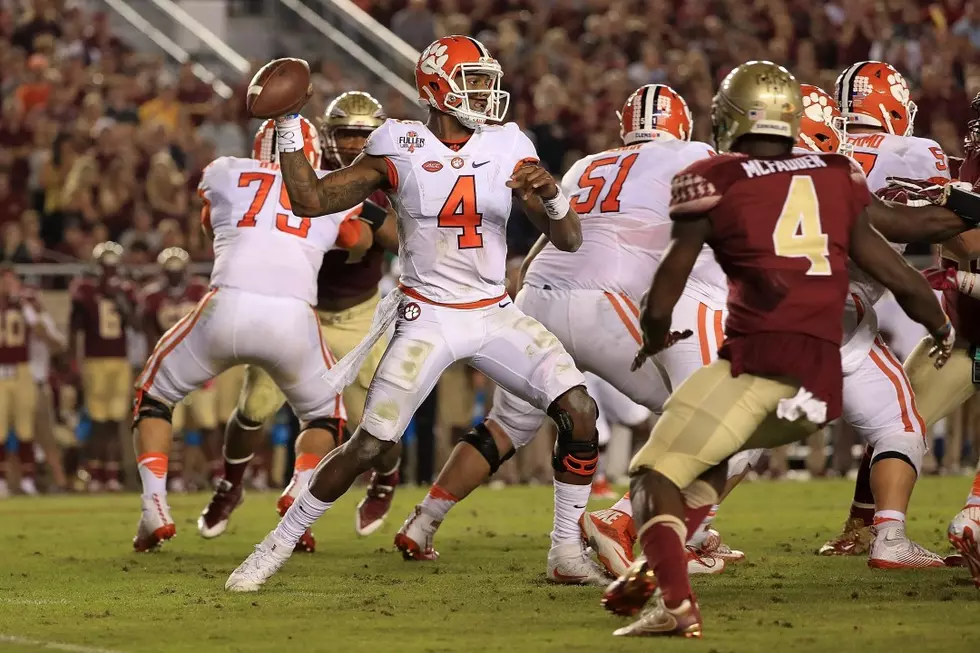 Upsets in the Top Ten Highlight Week 9 in College Football
Mike Ehrmann/Getty Images
Eight ranked teams--including four previously unbeaten ones--went down to defeat as upsets were the rule of the day. Here are some of the things we learned in Week 9 of college football.
Clemson Comeback Keeps Title Hopes Alive
No. 3 Clemson had no answers for Florida State's Dalvin Cook, but rallied in the fourth quarter for a comeback win, 37-34, over the No. 12 Seminoles to remain in the ACC Atlantic driver's seat.
Clemson quarterback Deshaun Watson threw for 378 yards and two touchdowns and led the Tigers on three fourth-quarter scoring drives, including the go-ahead touchdown with just over two minutes to play. The win marked just the second time in history that Clemson has beaten Florida State in back-to-back years. It was Clemson's second-ever win at Doak Campbell Stadium since joining the ACC in 1992.
Cook almost singlehandedly led the Seminoles to the upset, with 169 yards and a career-high four touchdowns. But his efforts were undone by mental mistakes (13 Florida State penalties for 111 yards) and an offensive line that gave up six sacks (including on the 'Noles final two plays) and left quarterback Deondre Francois running for his life much of the night.
If history is any guide, Clemson fans should start adjusting their travel schedules: the winner of this game has gone on to win the ACC the last five years and to play in the national title game the last three.
Special Teams Might Have Saved Washington's Season
No. 4 Washington and No. 17 Utah traded blows for most of the game. But it was a late special teams play that kept the Huskies' playoff hopes alive. With 3:25 to play, Washington's Dante Pettis returned a punt 58 yards for a touchdown that put the Huskies on top for good, 31-24. 
Utah certainly played well enough to win, holding Husky quarterback and Heisman candidate Jake Browning to just 185 yards and two touchdowns. But games can sometimes come down to one play and the Utes' punt coverage letdown turned out to be the deciding factor. 
This could be a preview of the Pac-12 championship game. The Utes are now a game behind Colorado in the standings, but could well work themselves back into the mix before the season is said and done. 
Nebraska Was Good, But Not Good Enough
No. 7 Nebraska had been doubted by many as their 7-0 mark came at the expense of largely inferior opponents. So this week's road trip to No. 11 Wisconsin was the Cornhuskers' first chance to prove they for real. But they fell short of keeping their undefeated season alive, falling 23-17 in overtime. 
The Huskers certainly had their chances, with Wisconsin missing a potential game-winning field goal late and an extra point in overtime. But the Nebraska defense, which played well most of the night, gave up a handful of big plays late in the run game and Cornhusker quarterback Tommy Armstrong went just 12/31 for 153 yards and two costly interceptions. 
Since Tom Osborne retired after the 1997 season, Nebraska has gone just 5-24 against ranked opponents on the road. They'll have a tough test in changing that luck next week at No. 6 Ohio State.
Good Game, Big 12. Good Effort.
The Big 12 tried to make it a good run after Oklahoma's September losses, but we can go ahead and stick a fork in the conference's playoff chances this year. 
Oklahoma State forced three turnovers inside West Virginia's ten-yard line en route to a 37-20 upset of the No. 10 Mountaineers. Then, just a few hours laters, Texas kicker Trent Domingue made a 39-yard field goal with less than a minute to play to hand No. 8 Baylor its first loss of the season. 
With no big-time nonconference wins and no really great teams in the conference, it will be all but impossible for the Big 12, the only Power 5 conference with no undefeated teams, to make up any ground in the strength of schedule component so important to the playoff selection committee. That, combined with the conference's ridiculous decision to start hosting a conference title game between the top two teams, will make it difficult for the Big 12 to get a team in the playoffs this year and beyond.
Lamar Jackson Is Just Running Up the Score Now
With No. 5 Louisville trailing Virginia 25-24, Cardinal quarterback Lamar Jackson took over and showed why he is the Heisman frontrunner, leading an eight play, 75-yard drive in the final two minutes. He found receiver Jaylen Smith for a 29-yard score with 13 seconds left to keep Louisville's title hopes alive.
Jackson finished with 361 yards and four touchdowns on the day, plus another 90 rushing yards. He obviously already has the statistics and highlight reel plays in his Heisman resume. Throw in leading a comeback win and he's getting really close to having the trophy wrapped up.
Early in Stanford's game at Arizona, running back Christian McCaffrey broke loose for a 45-yard touchdown. Despite being a Heisman runner-up and rushing for over 2,000 yards last year, it was his first rushing touchdown in a road game—ever.
More From 96.5 The Walleye