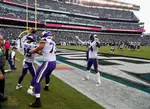 Vikings Win One for the Road
GettyImages-Jeff Zelevansky
It's always good to get a road win.
In a Game heard on 96.5 The Fox, Kirk Cousins showed why they invested in him and the Vikings showed something going into a hostile environment like Philidelphia to get the win.
Locally it was bittersweet because of the Carson Wentz factor, but when two football powerhouses meet, someone has to lose.
At one point it looked like the Vikings were going to run away with it, but Carson just like always does, brought the Eagles back. It was just too little too late. Here are the Game Highlights from NFL.com
If the Eagles get that onside kick we could've been talking overtime. Vikings recovered though.
All in all, it was a fantastic matchup and hopefully, we can see it again in the playoffs because it's a good chance that they will both be there.
Here are what the Viking players thought.
Interviews are done By Townsquare Media Sports Director, Rob Meltzer who was on location in Philidelphia. 
More From 96.5 The Walleye