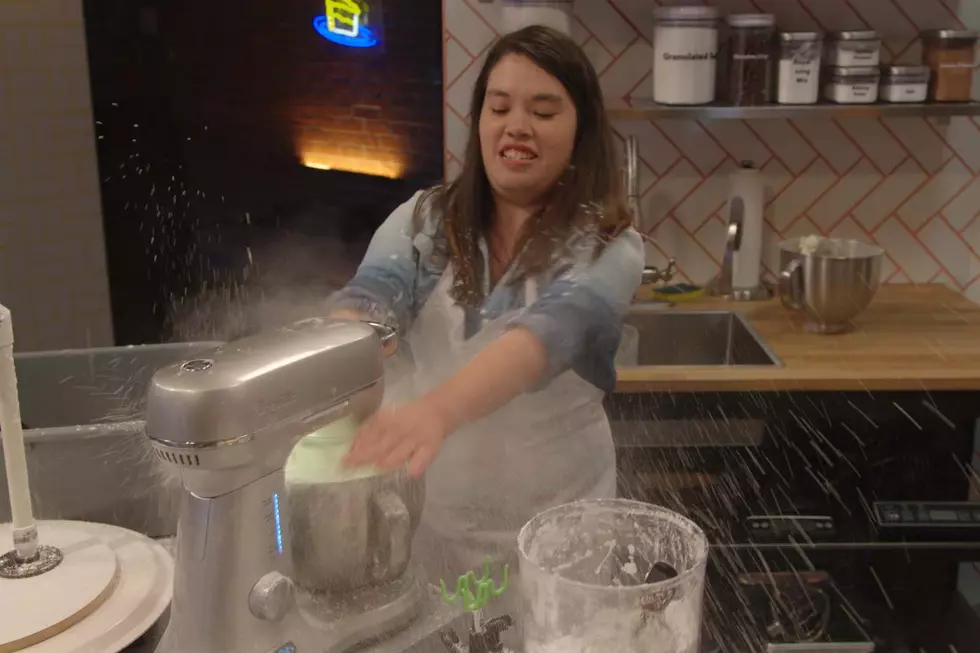 'Nailed It!' Is the Netflix Show Everyone Should Be Watching
Netflix
It is actually impossible to keep up with all the content Netflix is pumping out these days. According to the "New/Upcoming" section of Netflix's press site, the streaming giant released seven original series, films, standup shows, and documentaries in the last seven days alone, including the second season of GLOW, a sci-fi movie called TAU, and a new W. Kamau Bell special. For some reason, though, that page doesn't even mention my favorite original of the bunch. Is it possible Netflix is now releasing so much stuff even they can't keep track of it all?
That unmentioned favorite is an unusual cooking show called Nailed It! In each episode, three extremely untalented bakers compete for cash by creating outlandish desserts. The series is hosted and judged by comedian Nicole Byer, pastry chef Jacques Torres, and a third rotating guest; sometimes another master baker and sometimes a comedian. Either way, the three hosts/judges poke gentle fun at the contestants as they struggle in the kitchen. Basically Nailed It! is the Not-So-Great American Baking Show, and it's hysterically funny.
Like The Great British Baking Show, the mood is more convivial than competitive. Unlike The Great British Baking Show, most of Nailed It!'s "home chefs" are unqualified to eat a cake, much less bake one. Put it this way: I've never baked anything in my entire life, and that makes me way too good at baking to ever appear on the show.
Reality television series about untalented people is almost a subgenre until itself at this point. There have even been series dedicated to bad cooks before. (The early seasons of Hell's Kitchen, with Gordon Ramsay trying to run a restaurant with a kitchen that appeared to staffed by several Darwin Awards nominees, remain a personal favorite.) But Nailed It!'s unique spin on the formula is to make these non-bakers not only bake things, but to bake cakes that would be tricky even for professionals. So instead of making an apple pie or banana bread, these poor schlubs have to recreate ultra high-end sweet treats like anti-gravity cakes and novelty pancakes shaped like other foods.
The money shots of each episode are the contestants' presentations of their masterpieces to the judges. Then the show cuts to a side-by-side comparison of what they were trying to make and what they actually made while the bakers (in a tone of feigned excitement mixed with the dawning realization that they have embarrassed themselves in front of a worldwide audience of millions) declares "Nailed it!" Every single one of these split-screen shots are amazing.
The series has just the right mixture of slickness (most of the episodes are directed by Paul Starkman, a competition reality TV veteran of series like Top Chef and Project Runway) and clumsiness. Torres narrates the how-to sections of each episode, shot in glossy slow-motion, in amusing contrast with the chaotic high-def video on the actual set. Props are rarely where they need to be, forcing Nicole Byer to call for (and then give a hard time to) the show's stage manager Wes. The winner on each episode receives $10,000; they receive their earnings via a shower from a money gun.
Yes, the primary joke is that these bakers are bad and their creations are hideous. But Byer and Torres are encouraging and supportive amidst the jokes, and everyone looks like they're having a great time. Their upbeat attitude is infectious. Best of all each episode is 30 minutes long or less. Unlike so many of Netflix's original slogs series, you can binge a season of Nailed It! in a single sitting, preferably while drinking one to two bottles of white wine with your significant other. It is one of the few Netflix shows you will actively wish there were more episodes of as soon as you finish a season.
Fortunately, the second season of Nailed It! (featuring six full new episodes and a special crossover with the Netflix Queer Eye cast) was just added last weekend to Netflix. It may not be among the shows that Netflix algorithmically shoves to the top of your page. But trust me: It's worth a watch.
The first two seasons of Nailed It! are available now on Netflix - watch all 13 episodes here.
Gallery - The Best Netflix Original TV Shows and Movies, Ranked:
More From 96.5 The Walleye