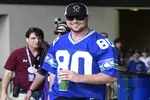 Winner's Choice Football Trip.
GettyImages-david banks
If you like road trips, you'll like this one. 
It's an opportunity to go with a buddy on a road trip to an NFL game in any NFL town during Week 9 all-expenses paid.
Let's see some of the matchups you could be checking out live in the stadium.
Steelers / Ravens: Nice Division grudge match. Something good always happens when these two teams come together.
Packers/ Patriots; Hopefully Rodgers isn't hurt by then. Great matchup in Foxboro
Jets/ Dolphins: Always a great rivalry and it's in South beach to boot.
Texans/ Broncos: Deshaun Watson vs Von Miller, that's a nice matchup and you can probably ski before the game.
Or you can swing over to the Twin Cities to watch the Vikings Smoke the Detroit Lions if you're a hardcore Vikings fan.
A pretty cool deal for just registering to win. The hardest part of it would be staying out of trouble 
If you want to register, just click here 
More From 96.5 The Walleye