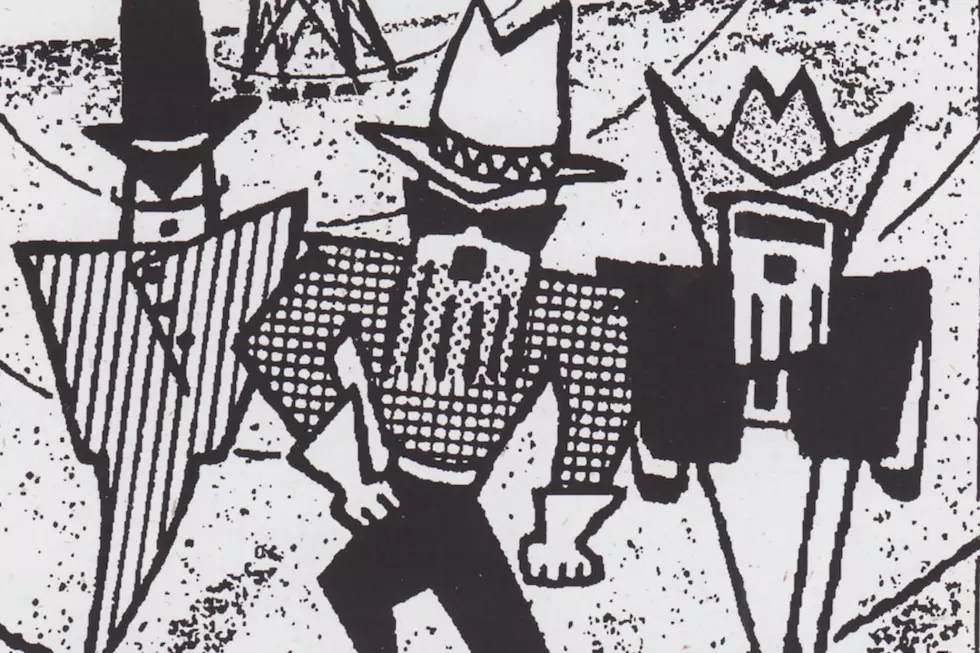 When ZZ Top Decided to Dial It Down for 'Antenna'
RCA
After rising to prominence in the '70s and bringing Texas boogie blues to the Top 40 in the '80s, ZZ Top entered the '90s in a rather unusual position: as members of the rock establishment, with $35 million in the bank thanks to a rich new deal with RCA Records.
The band's new contract, which wooed them away from longtime label home Warner Bros. and promised five new albums, came at an odd time for rock 'n' roll, with newer bands such as Nirvana and Pearl Jam crowding veteran acts off MTV and the radio dial. While they'd been on the scene a good deal longer than most of the artists suffering diminished sales in the wake of the grunge revolution, ZZ Top had also taken full advantage of '80s production techniques, blending synths and drum machines into their sound for the top-selling albums Eliminator (1983), Afterburner (1985) and Recycler (1990).
Given the way trends had shifted, it came as no surprise that the band scrubbed off some of that polish for their 11th studio album, Antenna, released on Jan. 18, 1994. While the 11-cut set still incorporated its share of electronic rhythms and sound effects, it was their most back-to-basics record since 1981's El Loco – something that guitarist and singer Billy Gibbons admitted was a calculated decision.
In a 1994 interview with Mojo, Gibbons described the band's Antenna sound as "a stripped-down version of former approaches," adding, "This go-round, we consciously drew the line and very carefully tiptoed past it when and only when it felt right."
Listen to ZZ Top's 'Pincushion'
"I think that there's still a world of swirl that we had down there," Gibbons mused of the hugely successful "cyber-blues" sound the band adopted in the '80s. Calling the band "interpreters of an art form, which is where we continue to choose to be in the light of the fact that some of the originators are still not only with us but actively making it go." He continued, "As interpreters, it does open up a whole new world of experiment, and there's more to be had on that cyber-blues side of things."
"We wrote the songs as a three-piece band as opposed to a four-piece band with a synthesizer like we'd written 'Legs' and songs like that," bassist Dusty Hill told Kerrang! in 1995. Early in the sessions, they struck upon "Cover Your Rig," and "after we did that we saw the direction to take. ... It was not the speediest album we've made."
The four-year layoff Hill alluded to didn't seem to have much of an impact on record sales. While bands of ZZ Top's vintage seemed to be losing commercial clout, Antenna peaked at a respectable No. 14 on the Billboard charts, moving a million units and spinning off four rock hits ("Breakaway," "Fuzzbox Voodoo," "Girl in a T-Shirt" and the No. 1 "Pincushion") along the way.
As popular as Antenna may have been on rock radio, it faced a conspicuously uphill battle at the Top 40 stations where singles like "Legs" and "Rough Boy" had been so popular just a few years before. Rather than a continuation of the band's wild crossover success, the album foreshadowed a period in which ZZ Top would remain relatively active in the studio, releasing two more LPs (1996's Rhythmeen and 1999's XXX) before the decade was out, but one which also saw their commercial profile dimming considerably (XXX peaked at a dismal No. 100).
Whether or not RCA made back that $35 million investment, they gave fans their money's worth with Antenna, continuing the unlikely story of three grizzly dudes (and three nasty chords) who managed to keep wringing platinum out of the blues long after the mainstream seemed to have given the music up for dead.
ZZ Top ended up leaving RCA to hook up with producer Rick Rubin's American label in 2012, following a nine-year layoff. La Futura then became their first Top 10 album in more than 20 years.
ZZ Top Albums Ranked
More From 96.5 The Walleye