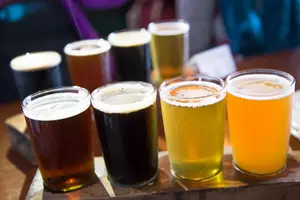 Brewery To Open in Lincoln
Angelika Kagan
As a former Brewery employee... I think this is awesome ! Here's the story. 
According to the Bismarck Tribune a brewery is in the process of opening up just outside the Lincoln area.
This Thursday is the grand opening of Gideon's Brewing  located at 6761 Sterling Drive In Lincoln and the owner Dave Duma, is a former Marine Helicopter pilot and Home Brewer which makes a lot of sense. A good many breweries I've been involved with are owned buy either ex-Military, ex-war journalists, and ex-CIA people. There must be something in those jobs that lends to drinking... hmm... food for thought.
So Back to Dave and Gideon's Brewery that opens this Thursday. He would visit a ton of breweries and brew pubs in Virginia when he was stationed there. He then began home brewing, and finally when he got out and moved back home to Bismarck, he started working on the brewery. Here is sample of his lineup of beers :
A Flavorful Pale Ale.
A Belgian Style Saisan with a lighter taste profile.
A Mango IPA that has bitterness but a fruity balance.
A Malt forward Amber ale.
A Dark Hefeweizen with Banana notes.
His hours look like 5-10 Thursday and Friday , Noon-10 on Saturday,  Noon to 5 on Sunday.
This Thursday the Grand Opening happens at 4:30 pm so get your drinking boots on ! That Belgian / Saisan sounds interesting to me.
More From 96.5 The Walleye