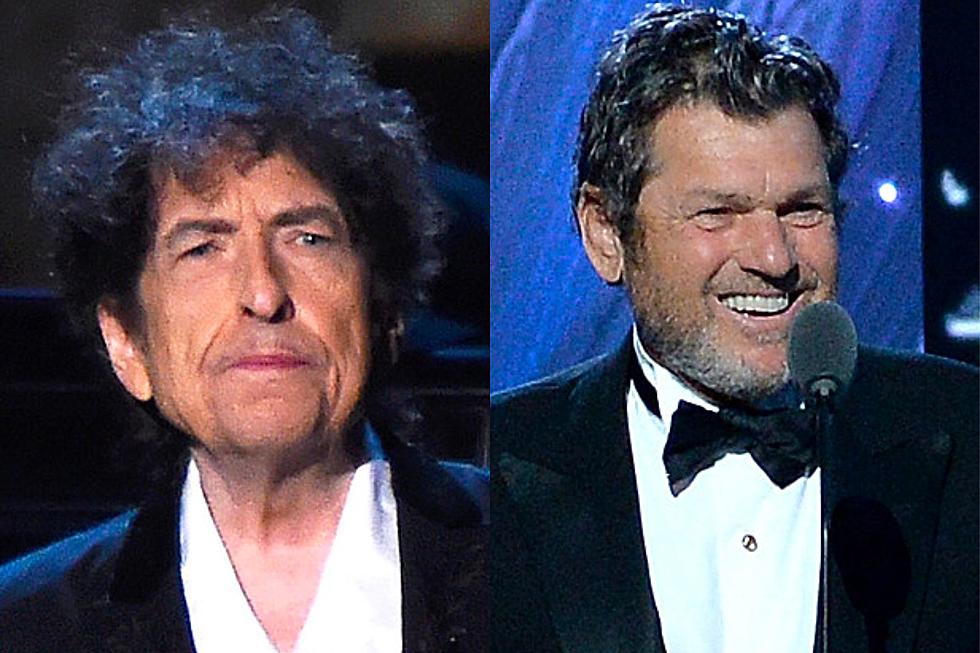 Bob Dylan Expresses Support for Ousted Jann Wenner
Frazer Harrison / Larry Busacca, Getty Images
Bob Dylan has commented on the recently ousted Rolling Stone co-founder Jann Wenner's dismissal from the Rock & Roll Hall of Fame's Board of Directors.
Dylan, who typically does not speak much between songs, took a moment at his concert Thursday night in New York City to note that Wenner was in attendance.
"All right, l'd like to say hello to Jann Wenner, who's in the house. Jann Wenner, surely everybody's heard of him," Dylan said. "Anyway, he just got booted out of the Rock & Roll Hall of Fame – and we don't think that's right. We're trying to get him back in."
Wenner was voted off the Hall's board in September, following controversial statements he made to The New York Times about Black and female artists. Wenner's recently released book, The Masters, features seven Rolling Stone interviews Wenner conducted over the course of his career: Dylan, John Lennon, Mick Jagger, Pete Townshend, Jerry Garcia, Bono and Bruce Springsteen. When asked by the Times why his book did not include any women or Black artists, Wenner asserted that they "just didn't articulate at the level" of their white male counterparts.
READ MORE: The Best Song From Every Bob Dylan Album
"I understand how inflammatory these words appear," Wenner wrote in an email to the Rock Hall's board prior to being removed from it, "but it is not how I feel in my heart nor have acted in all my years founding and leading the Rock & Roll Hall of Fame." (Aside from himself, only one other person voted to keep Wenner on the board, Jon Landau, Springtsteen's longtime manager.)
Thus far, Dylan is the only living artist from Wenner's book to have commented on the matter.
Criticism for Jann Wenner
Wenner's comments sparked criticism throughout the rock and roll community. Earlier this month, Bernie Taupin brought the subject up in his acceptance speech at the Rock & Roll Hall of Fame induction ceremony.
"I guess you could say my being inducted is a paradox, perhaps," he said, "but either way, I'm honored to be in the class of 2023 alongside a group of such profoundly 'articulate' women and outstanding 'articulate' Black artists along with all of the other music masters here tonight."
Bob Dylan Albums Ranked
Not so surprisingly, Bob Dylan's recording career has lots of ups and downs. That's bound to happen when you stick around for more than 50 years and release three dozen albums during that time.
Gallery Credit: Michael Gallucci
More From 96.5 The Walleye