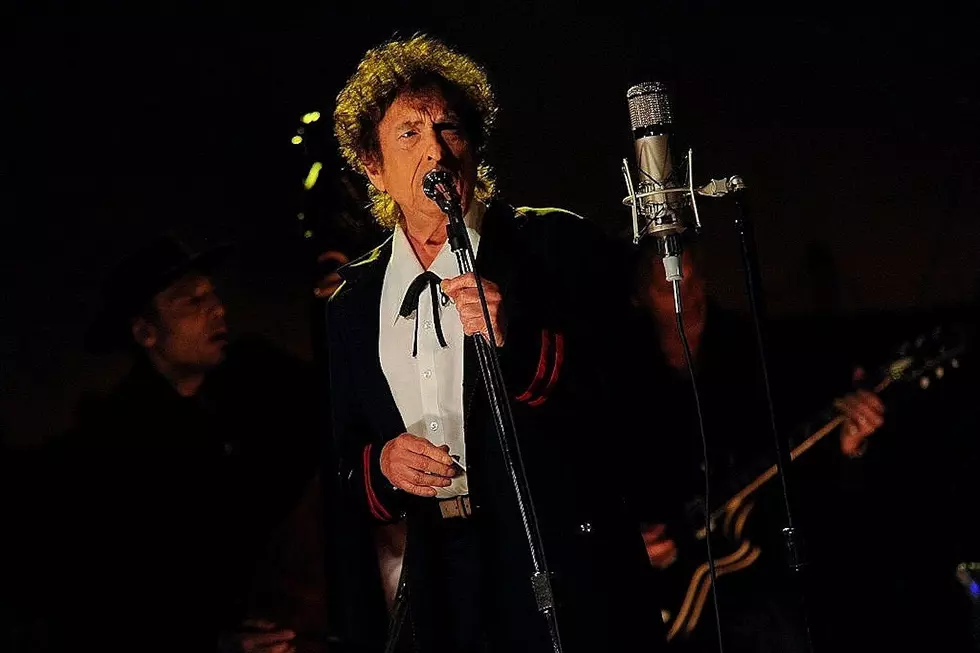 Bob Dylan Returns to New York City: Review
Jeffrey R. Staab, CBS via Getty Images
Bob Dylan returned to New York City on Tuesday evening, performing on his Rough and Rowdy Ways tour.
It's been two years since Dylan last played in the city he first came to in January 1961, then a fresh-faced 20-year-old. Now, at 82, there's a lot of history in between.
Dylan performed at the Kings Theatre in Brooklyn, an extravagant space dripping in red velvet and gold trim, but it's the kind of venue he's seemingly most comfortable in these days. Impressive without being too large, grandiose without it appearing unnecessary. Fans, phone-less for a fleeting evening thanks to Dylan's Yondr pouch policy, mingled in the lobby. They came from all over the world for a man who isn't much taller than the piano he stands behind on stage. "Rough and Rowdy" signature cocktails were available at the bars. (Whiskey, ginger ale, lemon juice, $18.)
Dylan enters, as naturally as a head of state, to fanfare — a literal orchestral cacophony played over the speakers. (Gone are the days of his previous entrance spiel: "The poet laureate of rock 'n' roll," etc.) He's joined on this tour by Tony Garnier (electric and standup bass), Jerry Pentecost (drums, previously of Old Crow Medicine Show), Bob Britt (guitar), Doug Lancio (guitar) and Donnie Herron (violin, electric mandolin, pedal steel, lap steel). Sporting white loafers and a white-trimmed suit, Dylan also brought a white hat with him on stage to set on the piano, though it never reached the top of his head.
Dylan's Song Selections
The set list on this tour hasn't varied much — save the occasional surprise, city-specific cover he's thrown in more than a few times — and primarily focuses on the songs of Rough and Rowdy Ways, released in 2020. But even those songs have undergone a metamorphosis over the two years Dylan has been touring with the album. Some, like "False Prophet," have taken on a much harder rocking attitude, while "Goodbye Jimmy Reed" sounds a bit like if J.J. Cale had gotten a hold of it and added a country blues spin. (Not a bad thing.)
Others have adopted arrangements similar to the ones Dylan utilized in his 2021 Shadow Kingdom film. It's a reminder of the premise Dylan has emphasized over the course of his career: that was then, this is now. If you came looking for a blast from the past, you won't find it on the set list. (A complete listing is available to view below.)
Dylan, who switched between sitting at the piano and standing spread-legged, still doesn't say much outside of his lyrics, though he was caught laughing a few times as he delivered lines. At what was anybody's guess. "Why, thank you," he said after "I Contain Multitudes," a touch of extra humility for the enthused reception.
"These songs are not easy to play," he added before introducing the others on stage, "but this band does a fine job, don't you think?"
Dylan plays 17 songs only, no encore, so the evening concludes much sooner than other rock 'n' roll shows. It's in line with the puckish, enigmatic persona he's developed over decades of life on the road and as the subject of intense cultural study.
To be touring the globe at 82 is, of course, a testament to his mastery. But for all of the jokes made about his singing voice or shadowy identity, it's worth acknowledging the candor Dylan represents, the kind that inherently comes along with writing songs and presenting them to the public, and particularly at the age he is now. Often referred to by last name only, he can still draw a sold-out, all-ages crowd in the biggest city in America.
As he puts it in "False Prophet:" "I opened my heart to the world and the world came in."
READ MORE: Bob Dylan Keeps Adding Surprising Songs to His Live Shows
Dylan will perform two more nights in New York, once more in Brooklyn and again Thursday at his beloved Beacon Theatre in Manhattan. This leg of the Rough and Rowdy Ways tour is scheduled to conclude on Dec. 3.
Bob Dylan, 11/14/23, Kings Theatre, Brooklyn, N.Y., 
1. "Watching The River Flow"
2. "Most Likely You Go Your Way (and I'll Go Mine)"
3. "I Contain Multitudes"
4. "False Prophet"
5. "When I Paint My Masterpiece"
6. "Black Rider"
7. "My Own Version of You"
8. "I'll Be Your Baby Tonight"
9. "Crossing the Rubicon"
10. "To Be Alone With You"
11. "Key West (Philosopher Pirate)"
12. "Gotta Serve Somebody"
13. "I've Made Up My Mind to Give Myself to You"
14. "That Old Black Magic"
15. "Mother of Muses"
16 "Goodbye Jimmy Reed"
17. "Every Grain of Sand"
Bob Dylan Albums Ranked
Not so surprisingly, Bob Dylan's recording career has lots of ups and downs. That's bound to happen when you stick around for more than 50 years and release three dozen albums during that time.
Gallery Credit: Michael Gallucci
More From 96.5 The Walleye