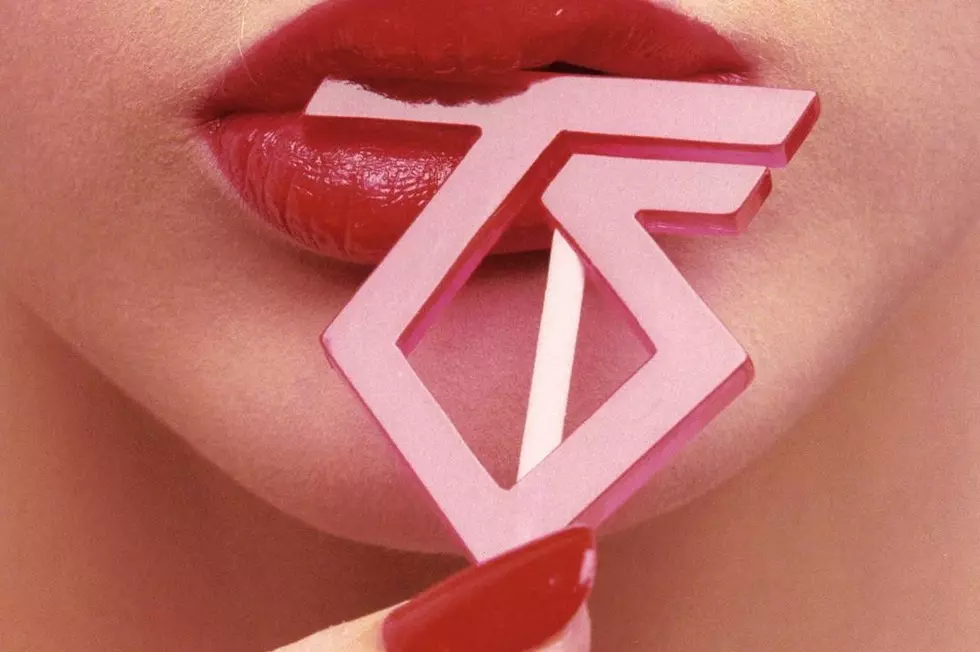 When Twisted Sister Took Their Last Shot With 'Love Is for Suckers'
Atlantic
It may surprise you that, though they toured with some regularity in their last 20 years of their existence, New York hard rock icons Twisted Sister hadn't recorded a full studio album of new material since 1987's Love Is for Suckers. And the irony is that even this record may have never happened had historical events transpired differently for the hard-working, even harder-dragging glam metal quintet led by Dee Snider.
Not long after Twisted Sister's decade-long climb out of the Long Island club scene crested with the multi-platinum triumph of 1984's Stay Hungry, their hotly anticipated follow-up, 1985's Come Out and Play, had been a dismal failure on every level. Over the span of some 24 months, the band had experienced such dizzying highs and lows that frontman Dee Snider described their career conundrum thus in his autobiography Shut Up and Give me the Mic:
"I became convinced that everything would be set right with the release of my next record. But what should that record be? Since Twisted Sister had become more of a mainstream act and the metal community had essentially turned its back on us, I believed my next move should be an even more mainstream album. And I was sure my next release should be a solo album. I didn't have any intention of quitting Twisted Sister, I just thought taking a break from the band and doing my own record ws the smart move to make. It would give Twisted a break publicly and -- I believed -- allow us to mount a comeback in a couple of years after the dust settled."
Listen to Twisted Sister's 'Wake Up'
But even as he started plotting the new sound and image for this proposed solo LP, Snider kept himself busy hosting MTV's Heavy Metal Mania show, working on a screenplay, writing a book entitled Dee Snider's Teenage Survival Guide and becoming a regular on the Howard Stern Show. Alas, none of these activities solved what was perhaps Snider's biggest problem: overexposure, and it didn't take long for business advisors to start pestering Dee to turn his in-progress solo songs into the next Twisted Sister album, soon to be named Love Is for Suckers.
Unfortunately, by the time Dee reconvened with his Twisted bandmates, guitarists Eddie Ojeda and Jay Jay French, and bassist Mark "The Animal" Mendoza, fifth "sister," drummer A.J. Pero had resigned and been replaced by former Good Rats drummer Joe Franco. As Snider explained in his book, "A.J. explained to me that when he told Jay Jay he wanted to do a side project, Jay Jay told him he couldn't stay in Twisted Sister and play with [Pero's other band] Cities; he would have to make a choice. With things in Twisted Sister being so uncertain, and A.J. wanting to play and show his range as a drummer ... he resigned."
Few would blame him, in retrospect, because Love Is for Suckers was, in many ways, a Twisted Sister album in name only, despite the presence of a few muscular anthems in the threatening "Wake Up (The Sleeping Giant)" the vicious title track and rhythmic "Yeah Right," plus decent singles like "Hot Love," "Tonight" and "Me and the Boys." Not helping matters was Beau Hill's glossy production, which sapped the power out of not-so-impressive deeper cuts such as "I'm So Hot for You," "One Bad Habit" and "You Are All That I Need" -- to say nothing of the uncharacteristically sappy ballad "I Want This Night (To Last Forever)."
But the real culprit behind the album's issues was Snider himself, who admitted in his autobiography that he "didn't do anything recording it than if it were my solo album.I made a more commercial sounding album, brought in outside musicians for various parts, and used what I wanted from the Twisted Sister arsenal of talent." He continued, "To make it even less of a Twisted Sister record than it already was, I/we decided to take off our war-paint makeup and tone down our costumes to fit in with every other hair metal band out there at that time. Brilliant!"
In doing so, they camouflaged themselves out of the view of most music consumers, who already had plenty of prettier, younger groups to choose from (including a particularly promising bunch called Guns n' Roses, which, one month earlier, had released its debut Appetite for Destruction), or were so disappointed by Twisted Sister's unlikely fall from heavy rock grace they'd moved on to heavier, generally thrashing new bands. As if there were any doubts, the Love Is for Suckers tour ground to a halt due to low ticket demand within just two months.
Recapping the band's collapse in his book, Snider wrote, "The worst part for me is the way it ended ... with a whimper. From the day I joined Twisted Sister, we had been a force to be reckoned with. We were the Demolition Squad. We were always the band to beat. To go out as quietly as we did was an insult to everything we had fought so hard for and achieved. Most of the public didn't even know we had broken up ... but had we?" That question is a little easier to answer today, but Twisted Sister did make a return after about a decade of silence and, trust us, they never whimpered again.
Twisted Sister Albums Ranked
More From 96.5 The Walleye