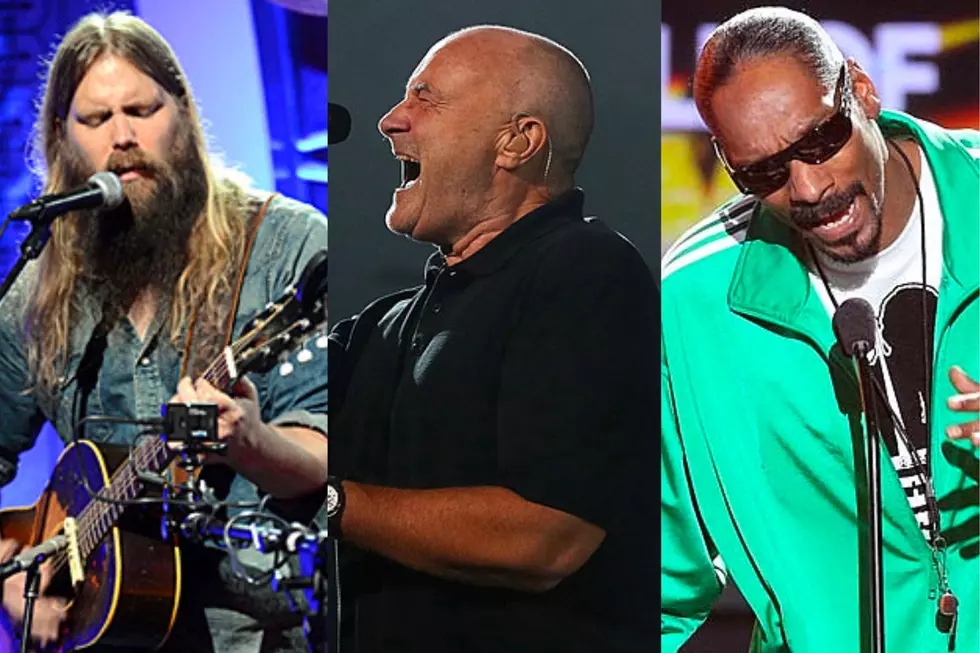 Chris Stapleton and Snoop Dogg Cover 'In the Air Tonight'
Jason Davis / Elsa / Frederick M. Brown, Getty Images
Chris Stapleton, Snoop Dogg and Cindy Blackman Santana have recorded a cover of Phil Collins' "In the Air Tonight" for Monday Night Football.
You can listen to the song, which made its debut tonight, below.
In a statement provided by ESPN, "In the Air Tonight" has a "long history" with football, "having been cited in the past and present as a song that helps players shift their mindset to prepare to compete."
READ MORE: 2023 Super Bowl Classic Rock Commercials Roundup
"It was fascinating to me to see how one song could get you in that mode to go kick some tail," Hines Ward of the Pittsburgh Steelers said last year.
Earlier this year, Stapleton performed the National Anthem at Super Bowl LVII; Snoop Dogg performed at the Super Bowl LVI halftime show the previous year.
Carrie Underwood's Joan Jett-Inspired Song
Last week, Carrie Underwood released her new intro video for Sunday Night Football. Her song "Waiting All Day for Sunday Night" was inspired by Joan Jett's "I Hate Myself for Loving You." This is Underwood's 11th season performing on NBC's Sunday evening NFL game. She's also occasionally included Jett's "Bad Reputation" in her concert set lists.
"Once again, the incredible Sunday Night Football team came up with a fresh, exciting visual concept that really gave us a chance to play," Underwood said in a statement at the time [via Rolling Stone]. "I loved shooting the show open again this year at our home away from home, the Resorts World Theatre in Las Vegas, and can't wait for another season of football!"
How Come These 10 Rock Artists Have Never Played the Super Bowl?
There was a time when rock acts dominated the Super Bowl halftime show. What happened?
More From 96.5 The Walleye